INNOVATIVE, FAST, EFFICIENT
CNC DIAMOND
CUTTING MACHINE
This fully automated Alloy Wheel Repair Machine is engineered to deliver the highest quality finish and the quickest turnaround time on the market. The alloy wheel diamond cutting machine is capable of making precise micromillimeter adjustments to damaged wheels while preserving their structural integrity.
In today's automotive landscape, diamond-cut alloy wheels have become a standard feature on most new cars, sparking a significant surge in repair demands, often due to kerb damages. This is where our state-of-the-art solution, the WR-DCM3 from Wheel Restore, steps in.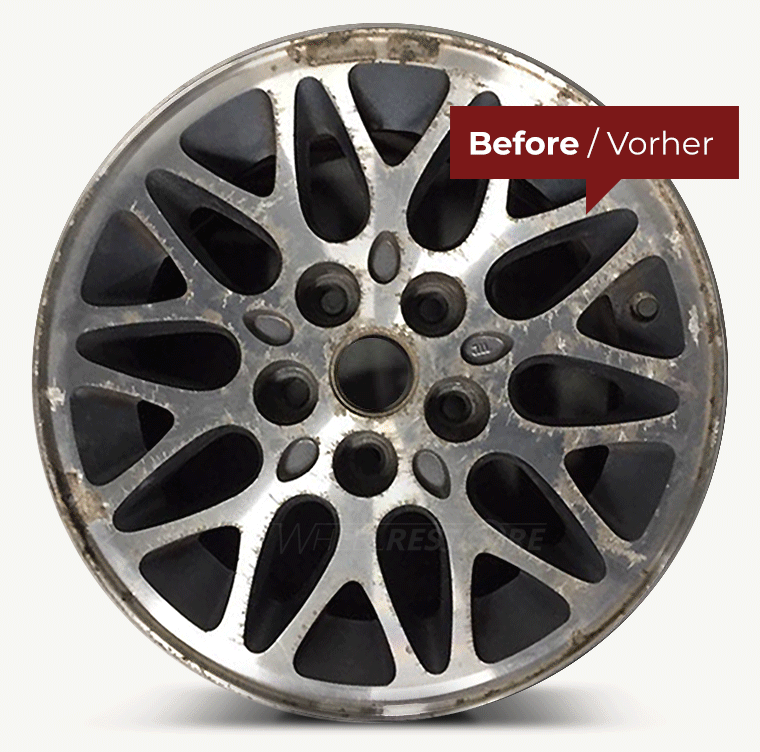 What exactly are diamond-cut wheels?
Diamond cut alloy wheels refer to a specialized finishing technique. In this process, the alloy wheel is mounted on a lathe, and part or the entire painted surface of the wheel is carefully machined off to reveal a shiny, exposed alloy finish. The machining process creates a fine, diamond-like pattern on the surface, giving the wheel a distinctive appearance. After the machining, a protective lacquer is applied to the exposed surface to prevent corrosion and maintain the wheel's aesthetic appeal.
With its cutting-edge features and unmatched performance, WR-DCM3 stands as the ultimate, no nonsense CNC Diamond Cutting Machine.
Our ROI calculator below will provide you with a crystal-clear snapshot of the investment required when acquiring your own WR-DCM3. We've even gone the extra mile and broken-down payback times into months and days.
Product
Hourly rate
Retail price per wheel
Monthly wheels
Cost per wheel (includes hourly rate and consumables)
Accessible, step-by-step interface
The WR-DCM3 boasts intuitive software, designed and engineered in Denmark, providing a seamless repair experience. The interface, purpose-built for alloy repair, visualizes each step on the touch screen as opposed to other rim repair machines that often repurpose CNC lathe software. The Wr-DCM3 simplifies the process, making alloy repairs efficient and accessible.

Quick Settings
Easily navigate through 3 intuitive modes with pre-defined settings for tool cut depth, feed rate, and RPM. No need to memorize intricate configurations.
Repeat Functionality
When restoring a rim, you have the option to set up to 3 cuts without constant operator presence, maximizing productivity.
Auto Positioning
Calibrated precision ensures faster and more accurate results every time, saving valuable minutes on every repair.
Diagnostics Screen
An overview of the machine's primary functions ensures seamless operation, enabling better support and quick troubleshooting.
Restores Diamond Cut Wheels under 30"
Perfect for a wide range of wheels, ensuring a flawless finish every time.
12" Touch Panel Display
A user-friendly interface for intuitive control and real-time monitoring.
Wheel Profile Storage
Store and retrieve wheel profiles effortlessly, enhancing productivity and accuracy.
Automated Laser Probing
Advanced technology for precise measurements, ensuring consistency in every cut.
Fully CE Compliant
Meet industry standards and regulations with this certified, reliable machine.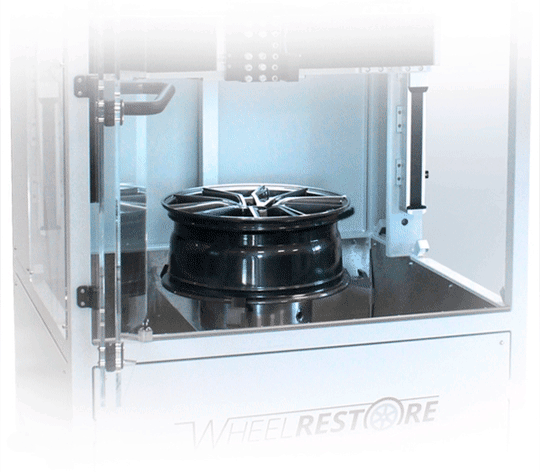 With or without tire.
The WR-DCM3 rim repair machine is quite unique in the market as it is capable of handling rims with or without tires. Not having to remove the tire first saves the garages and technicians valuable time better used elsewhere. Summer and winter tires can be repaired in connection with storage and the garage can make the repairs in less busy periods.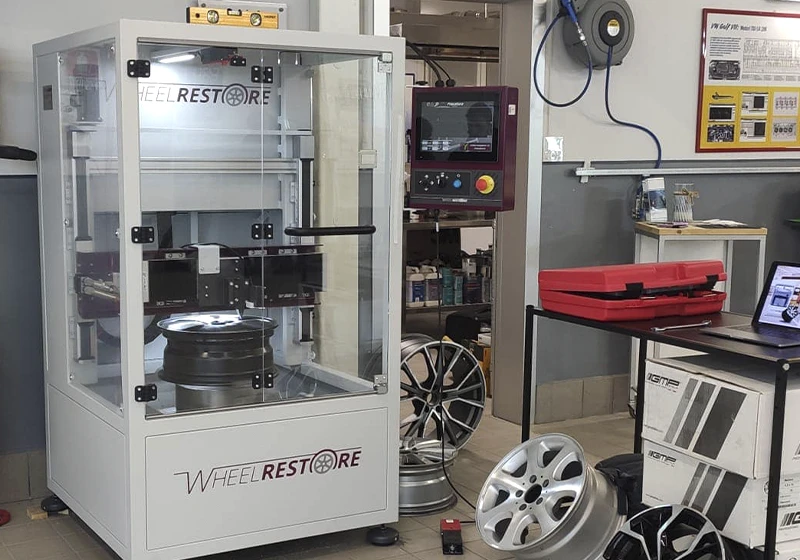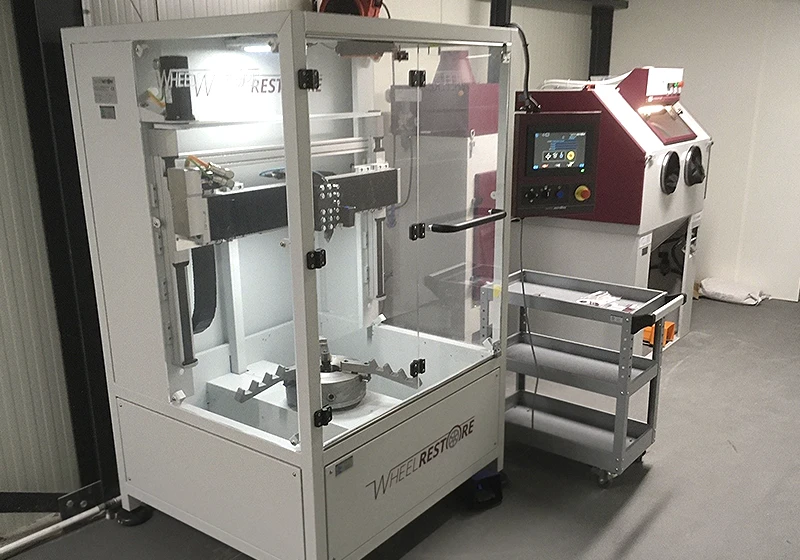 Seamless integration into the workshop.
Compact design, small footprint.
The Wheel Restore product range has been specifically designed to seamlessly integrate into a majority of workshops. The space-efficient and mobile design allows for a streamlined, efficient workflow, without ever occupying excessive space.
Perfect for mobile workshops
The Wheel Restore product range is meticulously crafted with a focus on versatility. Its compact, sturdy, and resilient design allows easy installation in the back of a van or truck, making it a perfect fit for mobile repair services. What's more, our advanced noise reduction technology guarantees near-silent operation, removing almost all limitations when selecting a parking or operating spot.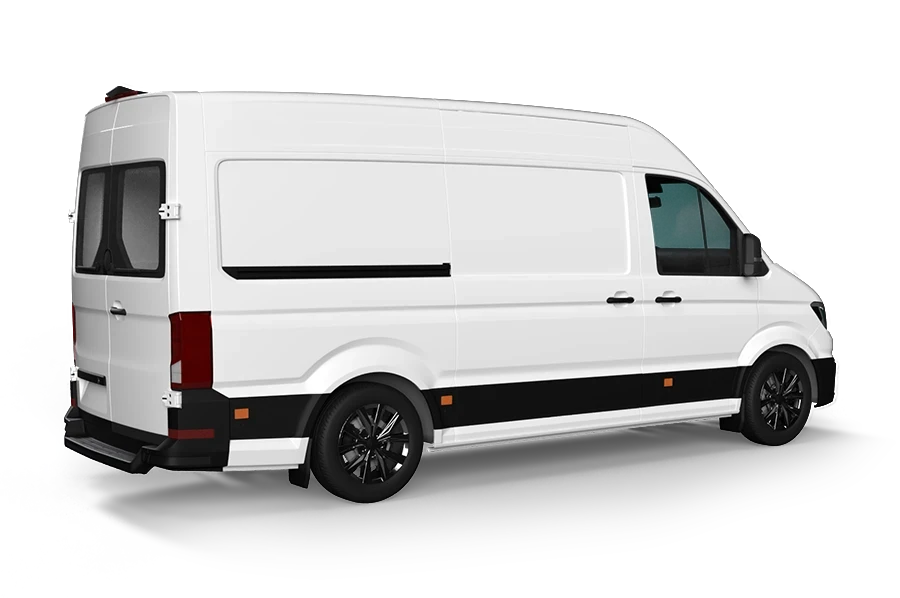 Service and Support Platform
Our service and support portal offers a wealth of resources, including user manuals, training videos, repair cards, scheduled updates, and a convenient ticket system for rapid assistance. Whether you have quick queries or complex issues, our online support platform is designed to help you swiftly resolve problems and prevent unnecessary downtime.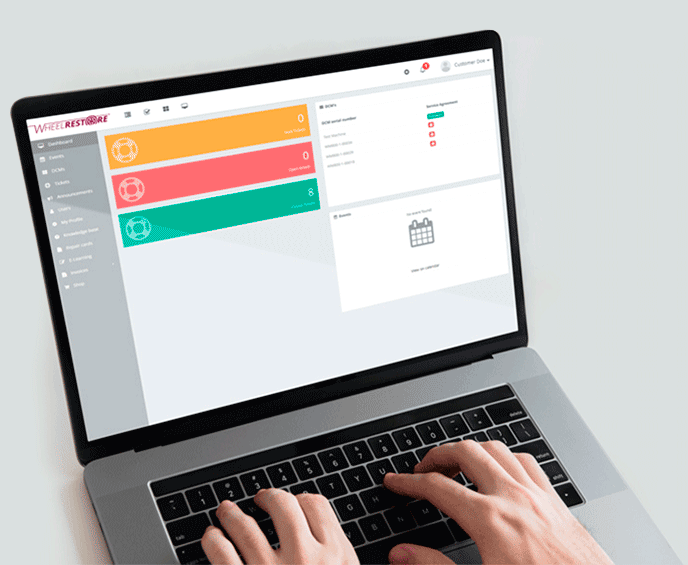 Radius Tool
Some rims have a rounding on the outer edge. This can be done by the machine. Using the radius tool, you can obtain the radius of the rim and set the machine to make it.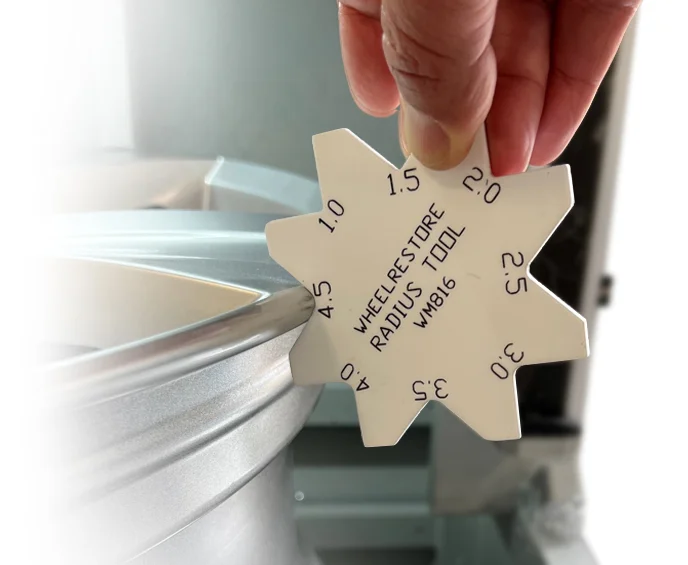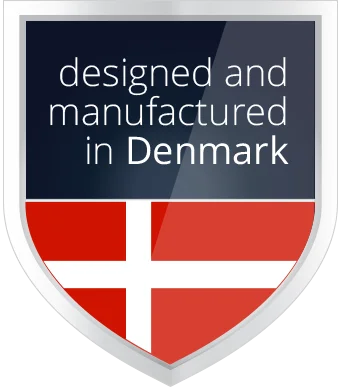 Building On The Wheel Restore Legacy
The Wheel Restore equipment range draws on our extensive experience in the wheel repair industry, having established ourselves as the world's leading manufacturer of the Diamond Cut Repair Machine, as well as pioneering unique air cleaning technologies for the spray booth market.
Electronic Spindle Brake
ACCESSORY
Eliminate those frustrating waiting times in the repair process. After deburring or finishing the cutting pass, it can take up to 20 seconds before the wheel comes to a complete stop and the door can be opened. With 3-4 passes per wheel, this waiting time can add up to over a minute per wheel. By installing this brake, you could potentially save around 15-20 minutes every day. In simpler terms, it means you could repair one additional wheel per day! Installation is a breeze with the included manual, ensuring seamless integration into your workflow.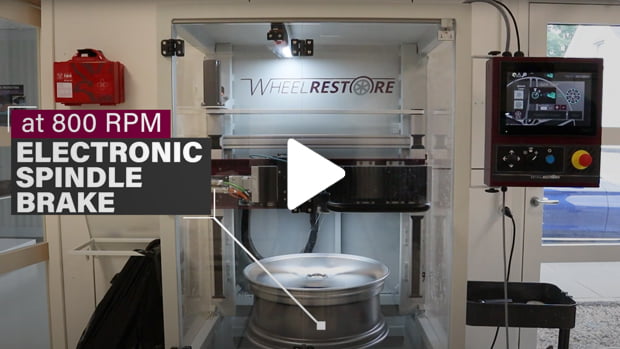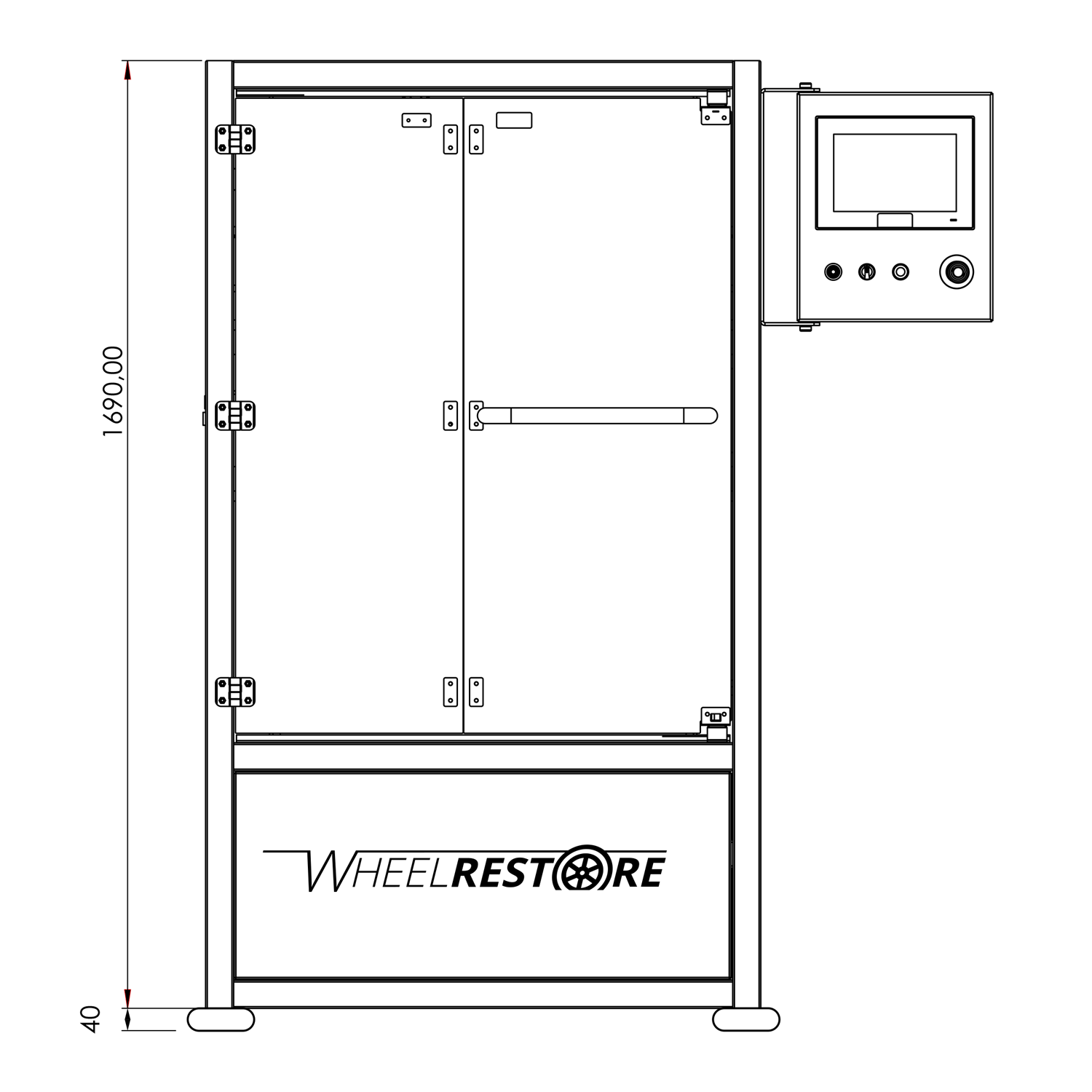 Specifications
| | |
| --- | --- |
| X axis travel | 655 mm |
| Z axis travel | 350 mm |
| Max wheel diameter | 30'' |
| Power Supply | 230 / 110V 16Amps |
| Dimensions (L x W x H) | 990 (1405) x 1020 (1100) x 1690 (1730) mm |
| Weight | 450 kg |
| Touch Display Size | 12″ |