ELECTRO-HYDRAULIC
WHEEL STRAIGHTENING
MACHINE
Quickly removes flat spots and buckles in warped wheels
Due to the generally poor road surfaces and potholes many cars on the road suffer from warped wheels that are easily restored with this precise wheel straightening tool.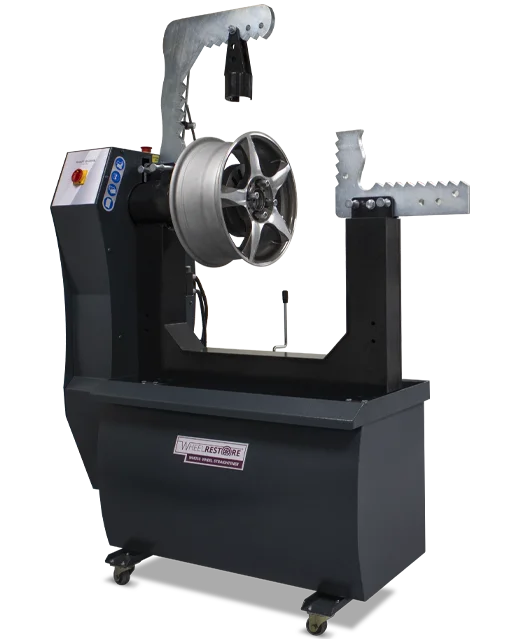 The wheel straightening machine is indispensable for alloy wheel repairers and tire shops. By avoiding the need to replace often costly OEM alloys, it not only saves customers money but also valuable time, making it an essential investment for any professional workshop.
How do you straighten bent alloy wheels?
Bent, warped, or buckled alloy wheels can be effectively restored using a hydraulic wheel straightening machine. This equipment utilizes a hydraulic piston equipped with specially shaped tools to restore the curved edges. The machine includes a controlled and automatic rotation feature, similar to fixed balancing machines, ensuring optimal conditions for the assessment and repair process. With precision and care, the technician handles the repair operation, using gentle touches to achieve a successful restoration.
What's the time frame for straightening an alloy wheel?
Typically, a skilled technician can complete a standard wheel straightening process in approximately 25-35 minutes. However, the duration may vary based on the extent of the damage.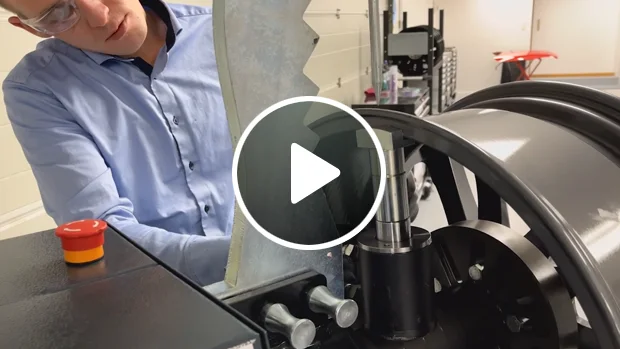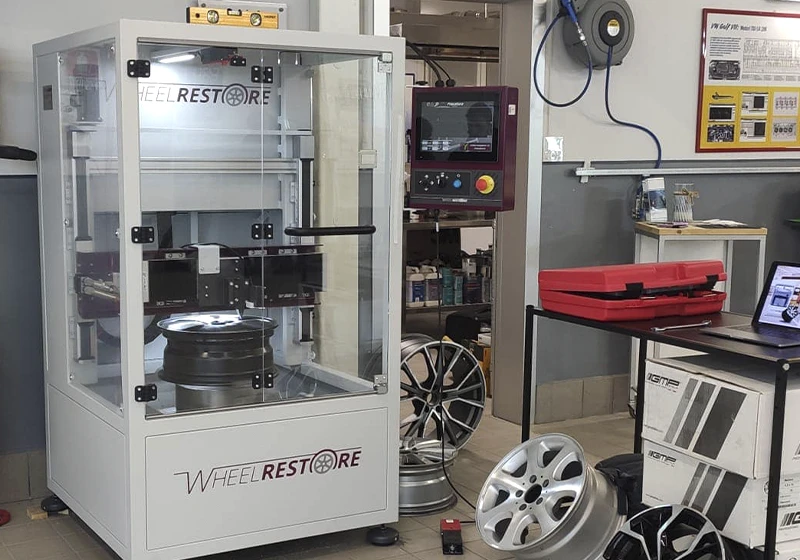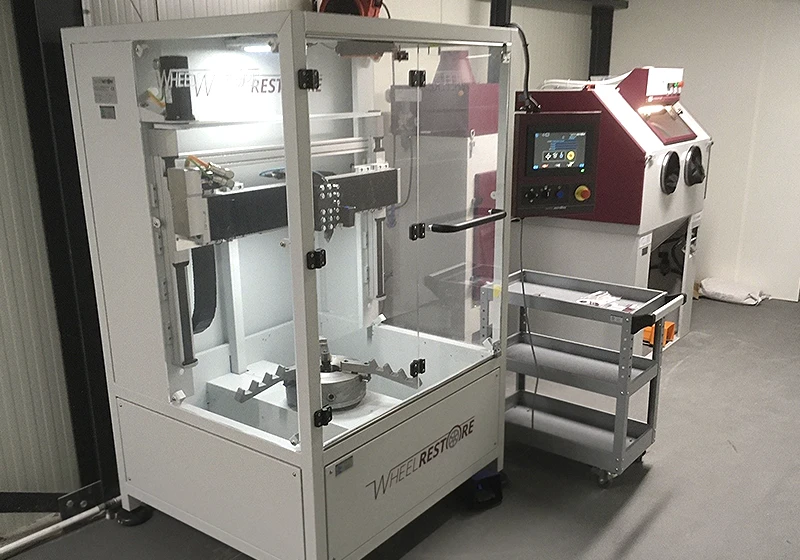 Seamless integration into the workshop.
Compact design, small footprint.
The Wheel Restore product range has been specifically designed to seamlessly integrate into a majority of workshops. The space-efficient and mobile design allows for a streamlined, efficient workflow, without ever occupying excessive space.
Perfect for mobile workshops
The Wheel Restore product range is meticulously crafted with a focus on versatility. Its compact, sturdy, and resilient design allows easy installation in the back of a van or truck, making it a perfect fit for mobile repair services. What's more, our advanced noise reduction technology guarantees near-silent operation, removing almost all limitations when selecting a parking or operating spot.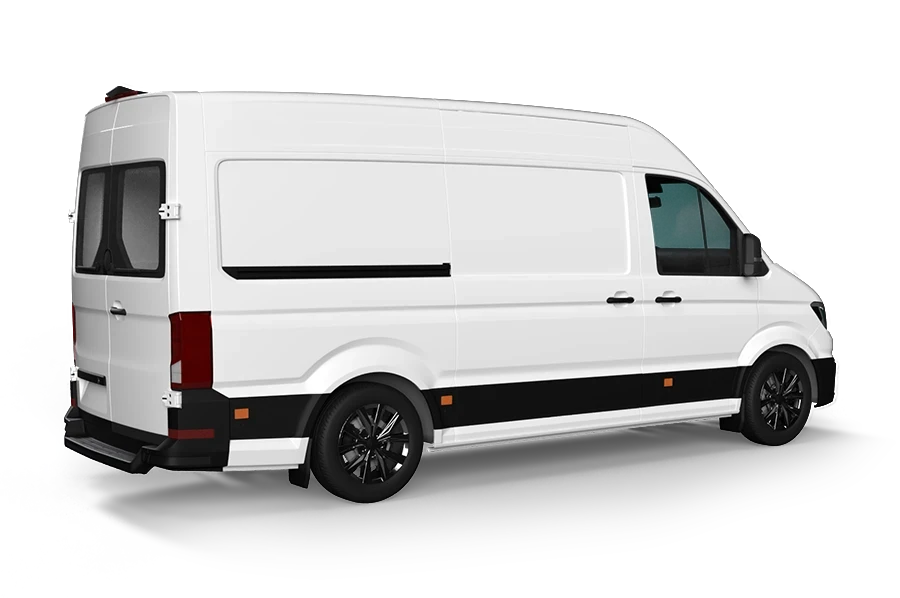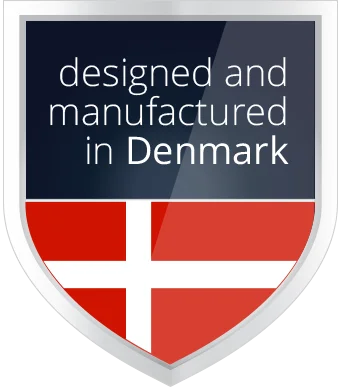 Building On The Wheel Restore Legacy
The Wheel Restore equipment range draws on our extensive experience in the wheel repair industry, having established ourselves as the world's leading manufacturer of the Diamond Cut Repair Machine, as well as pioneering unique air cleaning technologies for the spray booth market.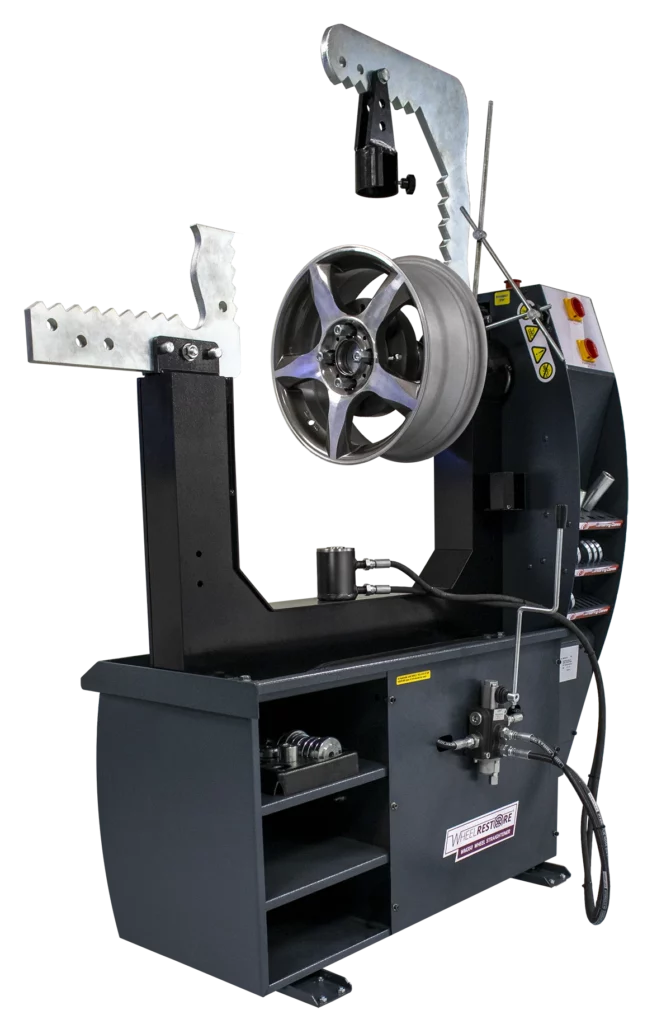 Alloy wheel straightening machine
User-Friendly Operation
This is the most straightforward wheel straightening machine for sale in the market today. Designed with functionality in mind, it makes rim straightening accessible to both seasoned professionals and newcomers to the industry without much training.
Mobile wheel straightening machine
This rim straightener packs a lot of power and functionality into a compact frame making it ideal for seamless integration into most workshops or van solutions.
Proven durability
Much like our alloy wheel repair machine we have tested the wheel straightener to ensure it proves its value day in and day out without hassle or breakdowns.
Specifications
| | |
| --- | --- |
| Maximum Rim Diameter | 10"- 24" |
| Hydraulic Engine | 0,55kW 900 d/d rpm 1h |
| 3 phase-single phase | 380V-(optional)220V |
| Mechanic Engine | Not Included |
| Dimensions (L x W x H) | 1152 x 500 (514) x 1423 (1600) mm |
| Weight | 160 kg |
| 5 Tons Hydraulic Pump Power | |